Discover more from Yoga for Diabetes Blog and Newsletter
A newsletter and blog about my life with Type 1 diabetes as a Yogi and Yoga teacher
The perfect injection
I was one of the lucky ones, or so I thought. When I was diagnosed with unusual blood sugar levels in 2008 I was told by my doctor that we would take a wait and see attitude. Waiting meant me measuring my blood sugar levels with a glucometer twice a day and having quarterly blood tests to see if there was either a reversal to normal levels or an escalation. Seeing was about hoping that I could reverse the symptoms through diet and exercise.
Looking back I'm not to sure how this 'wait and see' approach made me lucky. 'Waiting' meant I could go into further denial and 'seeing' took me into untold distress. When my doctor finally made the call  to start insulin therapy after acknowledging that what I had was a late onset form of Type 1 diabetes, I cried for two weeks straight. Not because I was worried or fearful (which by the way I was, no one wants to be dependent on medication for the rest of their life) but because I was relieved. Relieved that I had a diagnosis that made sense and that I would have control of my health again.
Up until that point taking insulin was my biggest fear. How would I travel having to carry meds with me everywhere, what if I reacted to the chemicals in the insulin, what if it didn't work.? My doctor assured me that I would feel a whole lot better once I started injecting. He was right. It took 6 months for my levels to return to 'normal'. Insulin doesn't cure diabetes, or solve the problem, but it does alleviate the issue of not being able to assimilate food . When the body doesn't produce an essential hormone you have to get it in there somehow.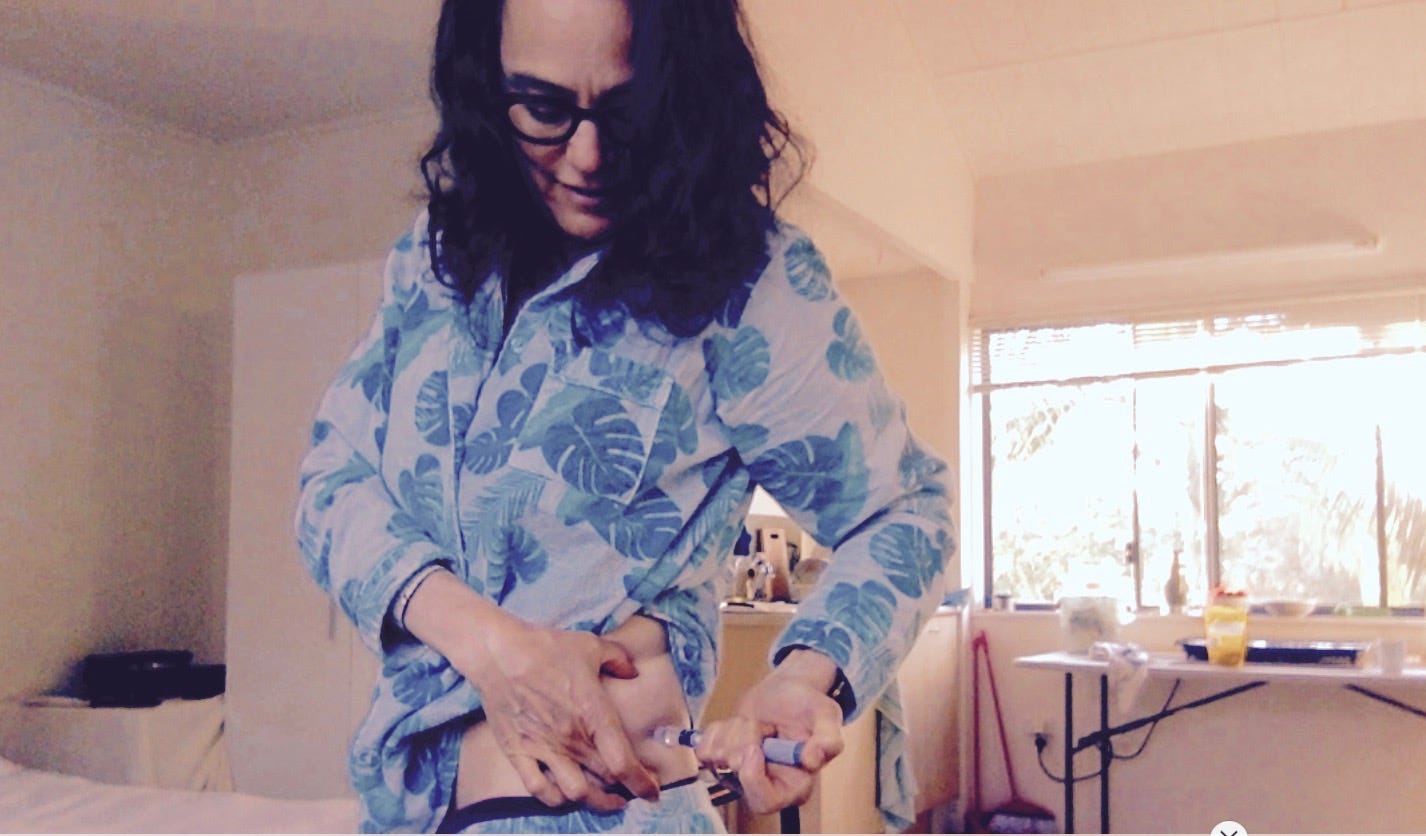 One of the first things I learned from my diabetes educator was to rotate injection sites. The reason being if I constantly inject in the same place that area starts to form scar tissue making it harder to absorb the insulin. Also the injection site changes the rate of absorption. I started by injecting in the fat layer on my belly, then after meeting friends who lived with diabetes I learned to inject in the fat tissue on the sides and lower back. Recently I've started injecting in the top part of my bum. I still haven't worked up the courage to try my upper outer arms or outer thighs, but I'm getting there.
The hardest thing to remember is where I last injected so I switch sides. Left side of my belly in the morning and right side in the evening. Basically I feel like a pincushion covered in bruises. I like to think of them as a battle scars, a fight well won. Those bumps and bruises show me I'm still alive. I don't begrudge taking insulin one bit. Taking insulin is a privilege. Before the discovery of insulin, diabetes was a death sentence.
What I'd really like to see out there in terms of help in rotating sites is some kind of way to make sure I'm injecting in a different spot each time. I've seen an idea for a temporary tattoos for kids  and there's a grid you can use, plus apps and charts. But to be honest all these options hasn't solved the issue.  One of the best options I've seen is placing a teeny tiny temporary flower tattoo after injecting, so eventually your whole belly looks like a garden. Sounds fun right?
In spite of the daily dilemma I have around injecting, life goes on. Initially, I felt nervous and awkward, and unsure as to whether it would work at all. It was my doctor who reassured me, "you know in a little while you'll forget you even struggled with this part of it. It'll be as automatic as driving a car."
And you know what? As much as injecting can be a literal pain in the ass, he was right. As I dial up the dose and inject that sucker I know everything is going to be okay.
see you tomorrow
with great respect...