Discover more from Yoga for Diabetes Blog and Newsletter
A newsletter and blog about my life with Type 1 diabetes as a Yogi and Yoga teacher
My best diabetes hack
One thing I love to do is scour the Diabetes Online Community for diabetes hacks. The best way to deal with all the little and big things that happen when you live with diabetes.  Best place to inject, how to dose for pizza, top CGM insertion points, ideal hypo snacks and that's just a small glimpse into the vast ocean of support that can be gleaned from others who've been riding the tiger. At first, a newbie on the scene, I didn't have any tips or tricks to share. Eleven years on there are definitely some hacks I swear by. If I had to distill my diabetes management into the 'best diabetes hack ever' it would be 'routine'.
Having a consistent routine in place from the moment I wake up means I can relax. I know that I'm going to have my morning long acting insulin at 6 am, my breakfast at 7 am, I'll be practicing yoga around 8 am, lunch at 1 pm , walk at 4 pm, long acting shot at 6 pm and dinner at 7.30 pm. I think of this set routine as a framework. Anything that happens in between these times is spontaneous, creative and fluid. Having a non negotiable routine creates stability in my blood sugars, a sense of trust that things are taken care of.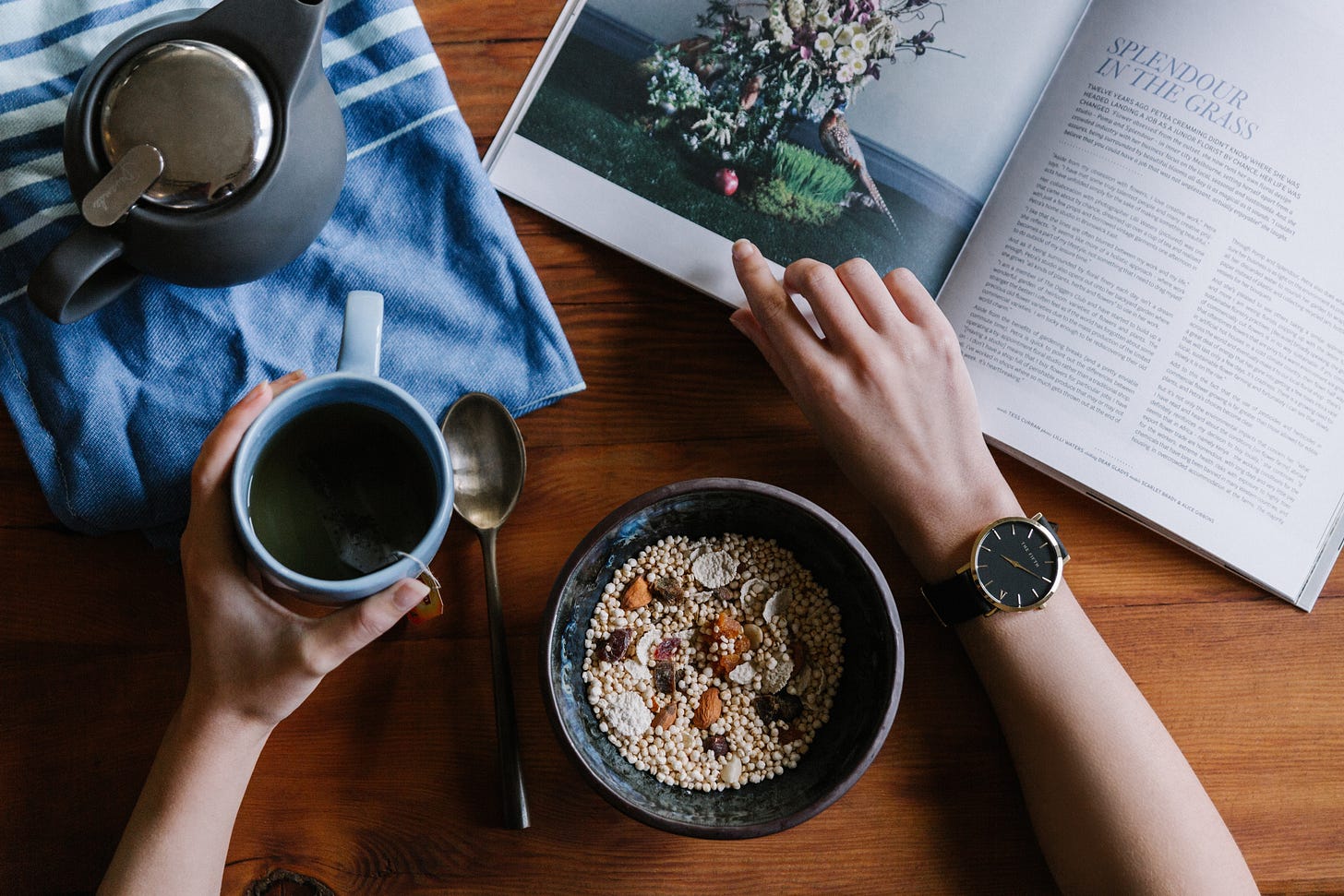 Living with diabetes can feel out of control. Having a routine puts me back in the drivers seat. I may not be able to tame the factors that affect blood sugar  but I can manage my time impeccably. Routine may be boring for some, for me it's a balm.
Routine is not just about the timing of shots it's about consistency of meals, same kinds of foods at each meal. Exercise, a twice daily yoga practice and afternoon walk. Rest, heading to bed before 10 pm and waking at sunrise. These routines are part of in Ayurveda what's called Dinacharya and are the staples that each Ayurvedic constitution relies on to stay balanced.
As we head into the holiday season it can be daunting to maintain our routines. For me a routine takes the stress out. I'd rather spend my time enjoying special times with family and friends, than try to fit in. It's taken me a while to get to this. I still need to explain to family and friends why I've eaten before the 3 pm Thanksgiving meal, or 11 am Christmas brunch.  Knowing that I'm going to stay in range keeps me sane. After over a decade with diabetes it can be so frustrating to have days and days of insulin resistance after eating and dosing at a time that doesn't suit. Call me boring, fixed...whatever I don't mind!
Routine is also what's enabled me to write everyday here for Diabetes Awareness Month. At first it was quite a task and I wasn't sure I could keep it up. Consistency has been the key. Sitting down everyday to share my inner world with diabetes has been both healing and cathartic.  Thank you to everyone who has stayed the course with me. Tomorrow is the last day so make sure to check out the final wrap up for what's been an amazing month of connection, sharing, awareness and community.
See you tomorrow #NDAM #DiabetesAwarenessMonth
with great respect...